Sant Giani Gurbachan Singh Khalsa Uppalheri Wale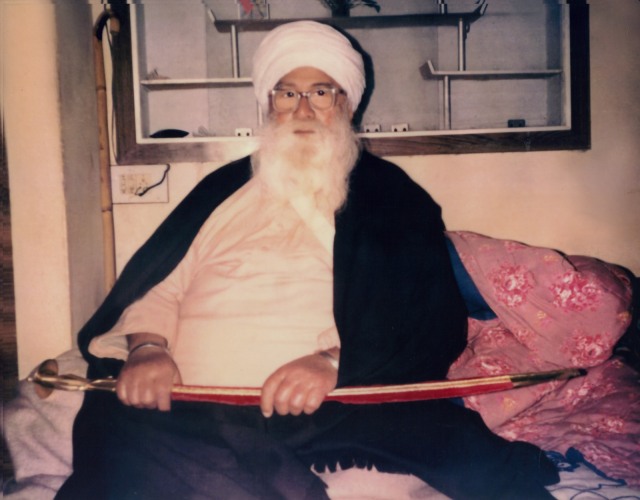 Brief Biography
Sant Giani Gurbachan Singh Ji Khalsa Uppalheri Wale were born in village Uppalheri tehsil Rajpura district. Patiala at Baba Kahn Singh Ji's home to Mata Prem Kaur Ji. Right from the childhood Mahapurakh were of religious interests. Their father Baba Kahn Singh ji were a puran gursikh, a rehatwaan sikh. Sant Ji's forefathers were blessed with Amrit at Sri Anandpur Sahib from the holy hands of Sri Guru Gobind Singh Sahib Maharaj. Baba Kahn Singh Ji did farming to rear his family.
When Sant Ji met 12th Jathedar of Damdami Taksaal, Sant Giani Gurbachan singh Ji Khalsa, Bhindranwale, they asked
Aa Gaye
(i.e you have arrived?) and to this Sant Ji replied:
Maharaj, Aap Ji Ne Kirpa Keeti Hai
(Mahapurakh ji, it's your blessing)
Hearing these words, Sant Bhindranwale took Uppalheri Wale permanently into the jatha. You then started kirtan sewa both in morning as well as evening. Khalsa Ji (Sant Giani Gurbachan Singh Ji Khalsa Bhindranwale were called Khalsa Ji by their predecessor, teacher and 11th head of Taksaal Sant Sundar Singh Bhindranwale) were very happy when they heard Baani from Sant ji, only after that Sant Bhindranwale gave santhya to Uppalheriwale from Ik Oankaar to Atthaarah Das Bees, according to maryada (code of conduct) of the Taksaal. Besides this, they learned many religious granths (scriptures) like Dasam Granth, Vaars of Bhai Gurdas, Kavit Sawaiye, Ghazals Bhai Nand Lal Ji, Saar Kutawali, Gur Nanak Chamatkar, Kalgidhar Chamatkar, etc. They used to do sewa of the parkash of Sri Guru Granth Sahib Maharaj with their own hands inside Gurudwara Sahib at Amrit vela (ambrosial hour). They used to keep the bastars (clothes ) of Guru Sahib neater, cleaner and spent more than their own clothes. They used to do seva of cleaning Gurughar of the respective village or city with their own hands wherever the jatha went. Since Gurughars' walls usually weren't well cemented (i.e , mud, adobe-mix, not permanent) Sant Ji would himself used to remove weeds grass, etc. from the roofs.
Sant ji learned Santhia of Sri Guru Granth Sahib ji, Guru Nanak Parkash, Gur Partap Suraj Granth and many other Granths, while being in Damdami Taksaal. While in the Jatha, Sant Ji did Kirtan for very long time. Mahanpurkh Bhindranwale told Sant Ji to do Simran-Bhajan in solitude because the coming times are vey dangerous. Sant Ji taught students continuously & regularly since 1969 at Gurughar (Gurudwara) village Uppalheri, Tehsil Rajpura, District Patiala. Mahanpurkh were blessed with eternal happiness while doing the seva while in the service of 12th Jathedar of Damdami Taksaal, SachKhand-Vasi Sant Giani Gurbhachan Singh Ji Khalsa Bhindranwale. Sant Ji used to do kirtan of Asa Ji di Vaar and Shabads in 'Raags'. They taught santhia of Gurbani and Kirtan to students throughout his whole life. Sant Ji got kaar sewa completed of Gurughars in many villages:-
Morran (Sangrur)
Kulaaraan (Sangrur)
Kanwarpura (Patiala)
Besides these, Sant Ji got kaar sewa completed of Gurudwara at village Uppalheri. During those days even the landlords in villages used to grow tobacco, Sant Ji persuaded them to abandon this practice, since tobacco & intoxicants are one of the four prohibitions in Gursikhi. Mahanpurkh persuaded everyone who would vist for his darshan-mela towards reading Gurbani and pointedly emphasised that you must earn your livelihood by doing kirt. All the students mahanpurkh ji taught, are doing their own occupations. All of the students take it as their duty to do Katha & Kirtan and are doing this seva (service) according to mahanpurkh ji's Bachans (orders) of "without taking any money", i.e free of cost. In later years for doing Gurmat Parchaar seva, Santji nominated Bhai Pal Singh Ji, Patiala wale as his successor. Sant Baba Pal Singh himself are working in govt. service in Punjab State Electricity Board (PSEB),Patiala. Mahapurkh ji left for Sachkhand on 9 September, 2004.
On dusshera sangat tied dastar to Bhai Pal Singh ji. According to mahanpurkh ji's bachan, Baba Pal Singh Ji are also dong Gurmat-Parchaar sewa along with govt. job. In pious remembrance of Sant Uppalheri Wale, Baba ji got a beautiful Khalsa Darbar built with Sangat's help. In Gurmat Sangeet Academy which Baba Ji has built in remembrance of Sant Mahanpurkh, 50 students are learning kirtan. Now, newer students are also doing seva of Gurughar on their own according to Mahapurkh ji's Bachans.
Sant Baba Pal Singh Ji
Sant Gurbachan Singh Ji Khalsa Uppalheri Wale left Baba Pal Singh Ji incharge of services Sant Ji were seeing at Uppalheri.
Baba Pal Singh Ji were given "Dastar" by a Jatha of singhs from Damdami Taksaal, sent by Sant Baba Thakur Singh Ji Khalsa Bhindranwale, Jathedar Damdami Taksaal. Dastar tying is the ceremony conducted in the presence of Guru Granth Sahib, which is symbolic to passing on the responsibilities held by the earlier Gurmukh to the new incharge.